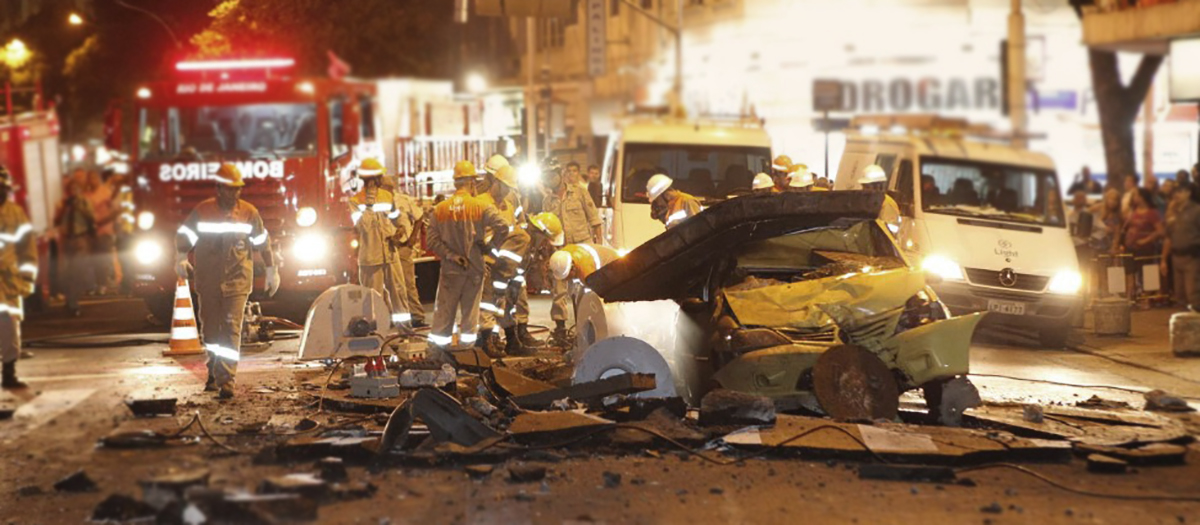 The challenge:
A series of explosions in Light Energy's underground network began to scare the population of Rio.
Media and public opinion turned against the company, seen as responsible even though investigations showed that gas leaks were the cause of the events.
What to do in a scenario of panic and uncertainty enhanced by social networks?
The Insight:
Explanations and tutorials are among the most consumed videos on YouTube, showing that people want to understand issues of their interest.
What if Light simply explains what's happening with transparency and creativity?
Cariocas did not deserve a "We are sorry and working to resolve the situation..." classic excuse.
The execution:
"Light Connection": a campaign of "explanations" to show (not just tell) how Light was working to solve problems, 24/7.
Launched on TV/mass media (1'):
Announcer: "Today Light Connection will explain how Rio's underground networks works, shared with cable, telephone, water and gas companies. (...) Light's facilities are closed, but water, sewage and even gas can enter. And a spark in the presence of fuel may cause a fire or explosion. Light is doing its part, with 300 men on the field doing 24-hour maintenance and investing 400 million reais in new equipment... "
The media strategy has integrated TV, radio, newspaper and online media with a digital content platform, inaugurating branded channels on Facebook, YouTube, Instagram and Twitter to start new conversations with cariocas.
Below: full page on O Globo, Rio's biggest newspaper:
"After all, what is happening under the streets? Place your smartphone here and go to conexaolight.com.br to understand."
Pirate energy (stealing energy from the system) is an historical problem in Rio and a crime almost impossible to solve.
To combat it, why not simply explain how we all pay for it by dividing the common loss through Light's energy bills?
2nd film (1'):
 
Announcer: "Pirate energy is not only Light's problem, it harms everyone. And you will understand why. A good example is this street, with energy coming in all the houses. One day, without anybody noticing it, a smart guy arranges a not-so-cool way to use energy without paying. Others imitate. Do you know what happens? The network becomes overloaded and serious accidents can happen. And it harms everyone, not just their neighbors: with the stolen energy would give to illuminate the whole state of Espírito Santo. Everyone loses, including the planet. And consumers are required to pay a bill up to 20% higher to compensate the loss... "
Below: full page "interactive" ad.
"Do you want to know how energy theft harms not only Light but all consumers? Light explains."
3rd film (1'):
Light shows what is doing to improve its services all over Rio, including work in recently pacified favelas, in a way everyone can understand.
4th film (1')
Preparing to host big events like the World Cup and the Olympic Games. Rio had big reasons to be optimistic.
And Light explains how it is building all the infrastructure the city will need.
And one more thing... a pedagogic idea.
Children explain where electricity comes from and the challenges it faces until it is consumed.
A special content that is being used until today in Rio's schools and in the Museum of Energy, sponsored by Light.
A survey carried out at the end of the campaign highlighted its approval:
- 93% consider Light a transparent company that works to solve problems;
- 64% advocate against pirate energy;
- 54% think it is important for Light to explain its work;
- 87% of those who initially condemned Light declared that they were unfair.
Agency: Euro RSCG/Rio (Havas)

Special thanks to:
Oscar Guerra, Jordana Garcia, Marcelo Coli, Rodrigo Lomelino, Armando Strozemberg, Vivian Ferraz, Lica Repetto, João Simi, Alex Sant'anna and everyone involved.