The problem:
Due to a price war, some gas stations began to add solvents to the fuel, affecting thousand of engines across Brasil and, of course, safety.
Anxiety was high and Petrobras was the first company to launch a Quality Control Program: "Fuel Watch".
With highly positive image results and effective sales, the competition decided to invest in its own quality controls services and, after a couple of years, consumers were no longer able to distinguish names, attributes, and differentials.
What should be the next step?
The insight:
To prove that Petrobras had the best quality control, we had to show it, not just make an advertising promise.
So why not redesign the whole service, making it tangible, reliable, visible, with communication embedded, using advertising to just explain it?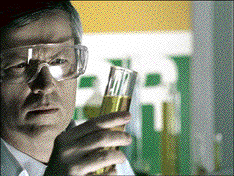 The idea:
A "Daily Watching" Quality Program to collect and analyse fuel samples, daily.
So 400 "Daily Watching Agents" were hired to drive their yellow motorcycles across Brazil's main cities, materializing the service and generating great impact in the real world.
The advertising campaign invested on mass media/TV to simply explain the operation, showing a swarm of yellow motorcycles invading streets.
Drivers could refuel in peace.
The results:
In short, consumers saw, unsderstood and became convinced. As one client recalled, "Whoever asks to be inspected has nothing to fear."
A survey conducted after the campaign measured the impact.
Question: "Which brand has the best fuel quality?"

Font: Focus Institute. Values in percentage; base: 400
Agency: DPZ with Hartmann Promo
Award: Grand Prix at Colunistas
Special thanks to:
Fred Coutinho, Luiz Vieira, Christiane Dumont, Ari Hartmann, Carla Ruede, Sergio Cuevas, Sérgio Prazeres, Danielle Portella and, specially, all motorcyclists involved.